2024 Chevy Blazer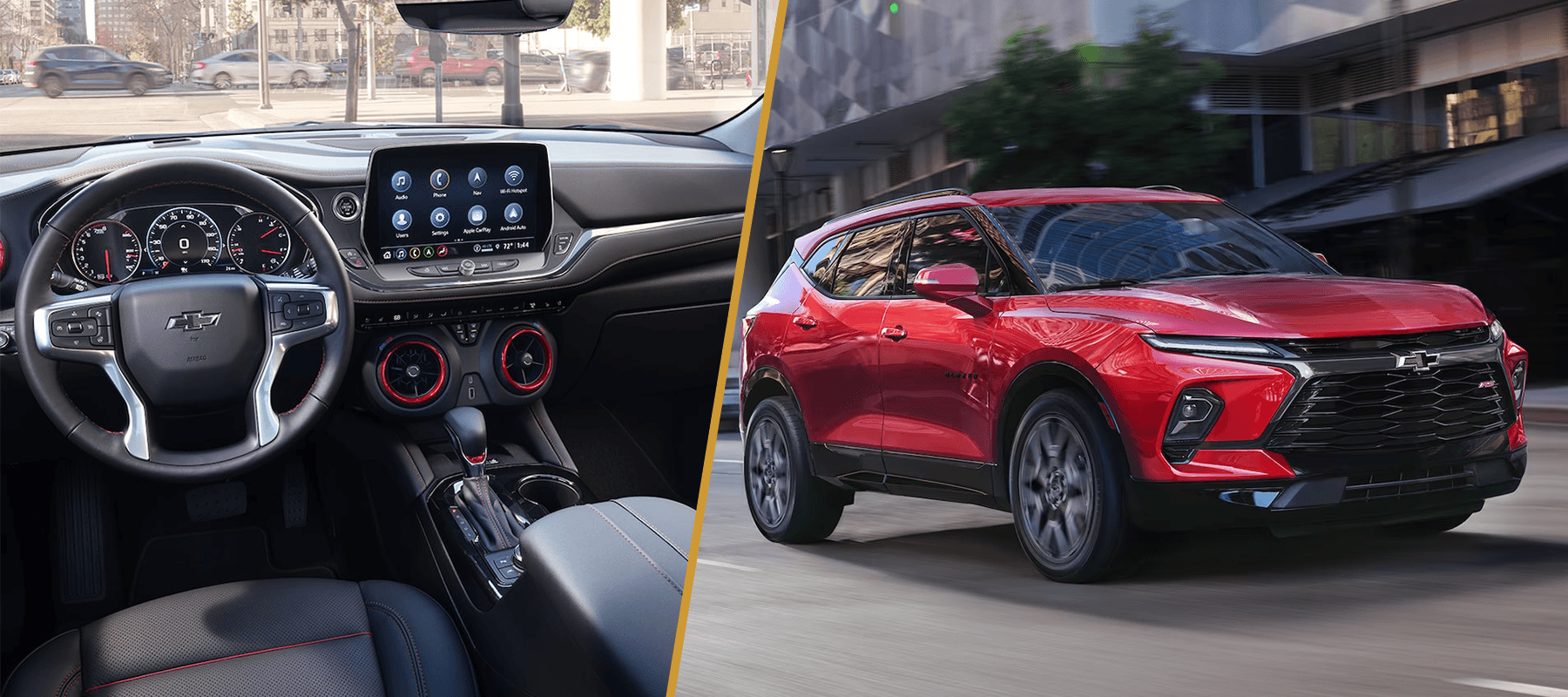 Are you on the hunt for a stylish, powerful, and technologically advanced SUV to elevate your driving experience? Look no further than the 2024 Chevrolet Blazer, now available at Al Piemonte Chevrolet. This sleek, versatile, and dynamic SUV is designed to meet your every need, providing a driving experience that's both thrilling and comfortable. Let's explore why the 2024 Chevrolet Blazer at Al Piemonte Chevrolet is the perfect choice for those seeking a blend of modern design, performance, and cutting-edge technology.
Design that Commands Attention
The 2024 Chevrolet Blazer is a true head-turner. Its bold and striking design exudes confidence, with a sculpted body, distinctive front grille, and LED headlamps that illuminate the road ahead. The Blazer's sleek lines and aerodynamic profile not only make a statement but also enhance fuel efficiency. It's a design that seamlessly blends sophistication and sportiness.
With Al Piemonte Chevrolet, you have the opportunity to choose from a variety of trims and colors to match your unique style. Whether you prefer a classic, understated look or a bolder, more expressive appearance, the 2024 Blazer has options that cater to your preferences.
Performance that Thrills
Under the hood, the 2024 Chevrolet Blazer offers a range of powertrain options, allowing you to select the level of performance that suits your driving style. The standard 2.0L turbocharged engine provides an exhilarating balance of power and efficiency, while the available 3.6L V6 engine delivers robust performance and acceleration for those who crave excitement on the road.
With an array of advanced handling and performance features, including All-Wheel Drive (AWD) and Traction Select Mode, the Blazer ensures you have control and confidence in a variety of driving conditions. This SUV is equally at home on city streets, highways, and winding backroads, providing an agile and responsive driving experience.
Cutting-Edge Technology
When it comes to technology, the 2024 Chevrolet Blazer is ahead of its time. Inside the cabin, you'll find an infotainment system that seamlessly integrates with your smartphone. With Apple CarPlay and Android Auto compatibility, you can access your favorite apps, music, and navigation right on the touchscreen display. The available Bose premium sound system ensures a high-quality audio experience.
Safety is a top priority in the Blazer, thanks to a suite of advanced driver-assistance features. From Lane Keep Assist to Forward Collision Alert, this SUV is equipped to help you stay safe on the road. The available HD Surround Vision camera system provides a 360-degree view, making parking and maneuvering in tight spaces a breeze.
Experience the 2024 Chevrolet Blazer at Al Piemonte Chevrolet
At Al Piemonte Chevrolet, we are proud to introduce the 2024 Chevrolet Blazer to our valued customers. As a trusted Chevrolet dealership with a reputation for exceptional customer service, we are committed to helping you find the perfect vehicle to match your needs and desires.
When you visit our dealership, you'll have the opportunity to explore the 2024 Blazer in person, take it for a test drive, and discuss the various options and packages available. Our experienced and knowledgeable team is here to assist you every step of the way, from selecting the right trim to discussing financing and leasing options that fit your budget.
Al Piemonte Chevrolet is dedicated to making your car-buying experience smooth and enjoyable. We provide competitive financing rates, special offers, and expert guidance to ensure you drive home in your dream vehicle. Your satisfaction is our priority.
Elevate Your Driving Experience with the 2024 Chevrolet Blazer
The 2024 Chevrolet Blazer at Al Piemonte Chevrolet is more than just an SUV; it's an embodiment of style, performance, and technology. With its striking design, impressive power, and innovative features, the Blazer offers a driving experience like no other.
Are you ready to experience the future of SUVs? Visit Al Piemonte Chevrolet today to discover the 2024 Chevrolet Blazer and find out why it's the perfect choice for those who demand excellence from their vehicles. Don't miss the opportunity to drive home in a Blazer that reflects your individuality and passion for exceptional SUVs.