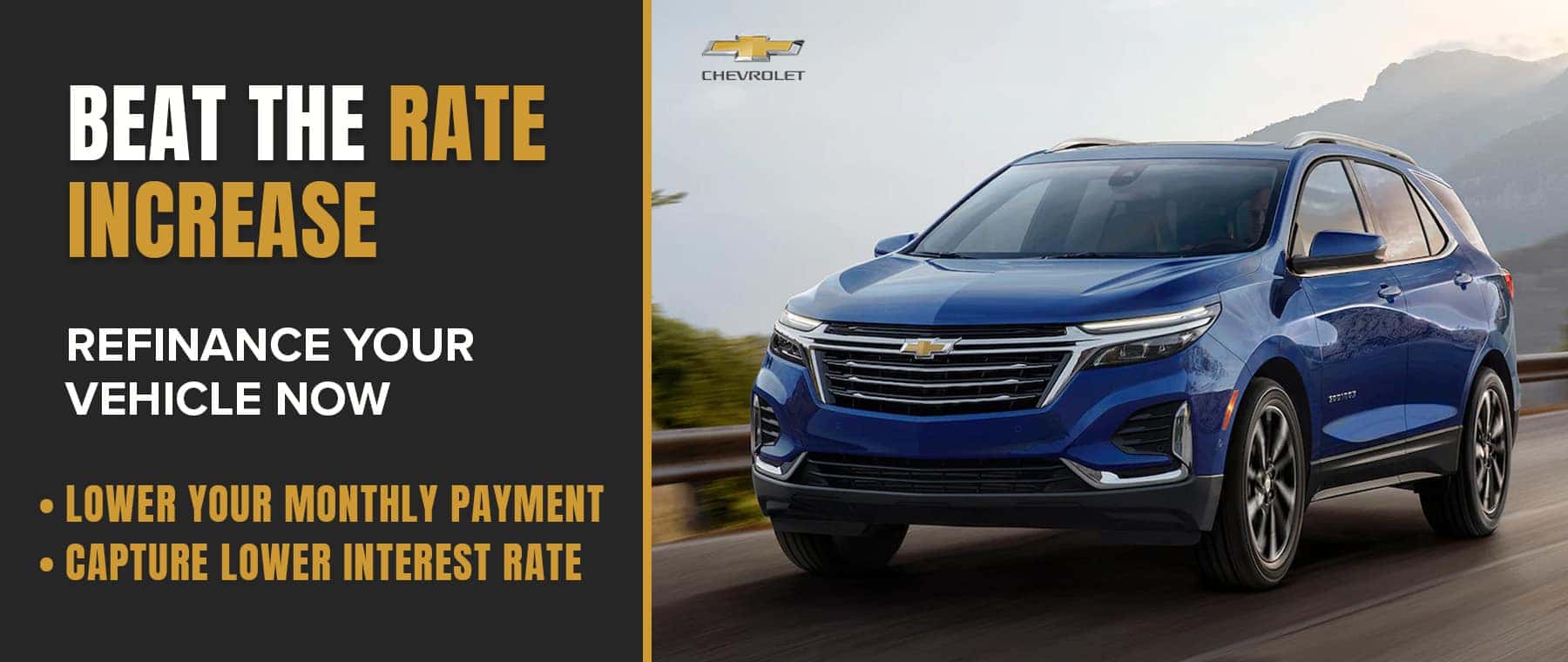 Refinance Your Vehicle
RATES HAVE NEVER BEEN LOWER
---
Lower Your Monthly Payment
Lower Your Monthly Rate
Lowering Your Car Loan Payments
---
If you've run into tough times and are struggling to make your monthly car payments, refinancing might be the right choice for you. Refinancing through Al Piemonte Chevy will lower your monthly payments, making them more feasible and better suited to your budget.

Even if you did not buy your vehicle from us, Al Piemonte Chevy can refinance your interest rates, effectively bringing down your monthly payment on your loan.
Reasons to Refinance
---
As mentioned above, refinancing can be a great option if you're in need of lower payments. But it can also help you to save a considerable amount over the time it takes to pay off your loan. This is due to dropping interest rates over the last few years.

If your credit score has improved since you purchased your vehicle, you might also find the opportunity to save big through refinancing. Purchasing a vehicle at the end of a lease can be a great opportunity for refinancing as well. But no matter why you refinance, we're here at Al Piemonte Chevy to help you throug the process - and to make it as smooth and hassle-free as possible.
HERE ARE SOME STEPS TO TAKE TO START THE PROCESS OF REFINANCING YOUR AUTOMOBILE
Find out your current interest rate.
---
Since the purpose of refinancing is to lower your interest rate, it is essential to find out what the current rate is on your loan. You can do this by checking the information on your loan documents or by asking your lender.
---
It's important to have your most up to date credit score when starting this process. If you have been paying your bills on time, it is possible that your score may have increased since you initially took out the loan.
---
It is best to apply to more than one refinancing company so you can compare different rates. Be sure to submit all applications within a 14 day time period to minimize any negative impact on your credit score.
---
In order to ensure that you're receiving the monthly payments you desire, you should take the time to run the numbers to verify what your payments will be.
---
You will need to choose the length of your loan term. Shorter term loans will offer lower interest rates, but the payments will be larger. Longer term loans will provide smaller payments, but in the long term you will end up paying more in overall interest.
It's important to make sure you choose the offer that works best for your situation.
THINGS TO KNOW ABOUT REFINANCING YOUR AUTOMOBILE
Other important factors to keep in mind before making your final refinancing decision include:
---
There may be fees associated with ending your car loan early, and if this is the case it may not be cost-effective for you to refinance. It's important to weigh the fees against the cost savings.
---
Many lenders won't approve refinancing if your car is older and has undergone significant depreciation.
---
If you owe significantly more than what your current vehicle is worth, it may be difficult to get refinancing approval.
If any of the above apply to you, you can still work with our experts at Al Piemonte Chevrolet, Inc. to find financing options to fit your needs Our financial team is on standby to help you refinance your auto loan. So contact us today for more information or to get the process started!
How Do You Refinance a Car Loan?
When you refinance your vehicle with our finance team, you lower the interest rate you're being charged each month. To start, you'll need to know what you're currently paying on your vehicle. Check over your documents or simply contact your lender to ask what your current rates are. After you have this information, follow these steps to refinance your car loan:
Check Your Credit Score: As long as you've been paying your bills on time, there's a good chance your credit score has improved. This is a good sign when going to refinance.
Start Applying: You'll want to apply to multiple lenders to get the best rate. Make sure each application is within a 14 day period to minimize the impact on your credit score.
Evaluate Offers: Run the numbers on new offers you get to achieve the monthly payments you're looking for. Our monthly payment calculator can help you compare.
Decide Loan Term: Decide if a longer or shorter term loan that best fits your situation. A shorter term loan will require larger monthly payments, but you will pay less interest in total. With a longer-term loan, your monthly payments will be smaller, but you will pay more in interest in the end.
What to Know When Refinancing Your Car
When the time comes to refinance, you'll want to keep the following in mind to help you decide whether refinancing is a good option for you:
Fees: You will want to check your original car loan to make sure there aren't any fees associated with paying it off early. If there are, refinancing may not be cost-effective.
Underwater Finances: If you owe much more than your vehicle's currently worth, it can be harder to get approved for refinancing.
Older Vehicles: Many lenders won't refinance an older car that has already experienced major depreciation.
Learn About Your Financing Options at Al Piemonte Chevrolet, Inc.
Contact our team at Al Piemonte Chevrolet, Inc. to learn more about the refinancing process and more. Our finance experts are standing by to help you learn more, get through the process seamlessly, and answer any questions you may have.
Get Directions To Our Dealership