2024 Chevy Silverado 1500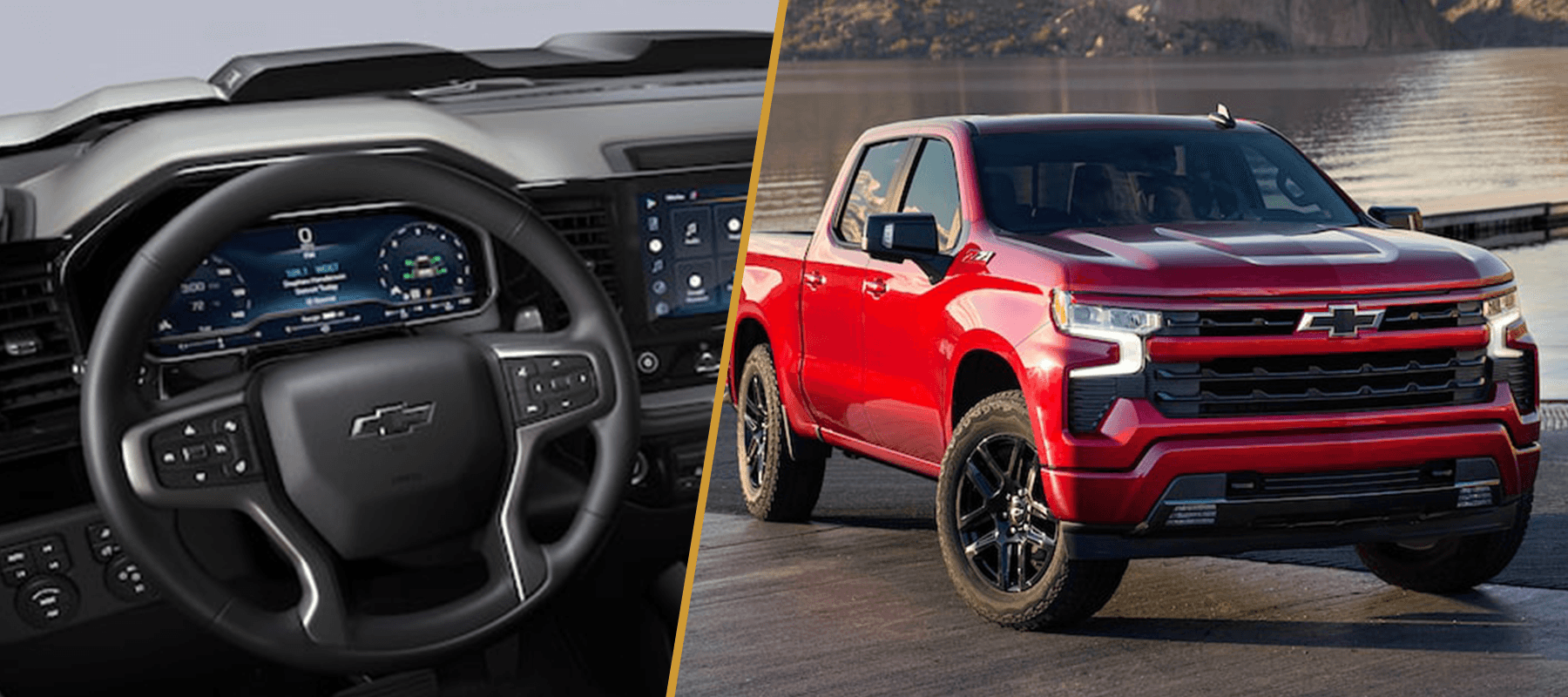 When it comes to powerful and dependable trucks, the 2024 Chevrolet Silverado 1500 reigns supreme. Al Piemonte Chevrolet proudly presents the latest iteration of this iconic truck, offering drivers a remarkable blend of power, versatility, and cutting-edge technology. In this comprehensive review, we'll delve into the key features that make the 2024 Silverado 1500 a top choice for those seeking a reliable, high-performance pickup truck.
Design and Exterior
The 2024 Chevrolet Silverado 1500 boasts a rugged and commanding design that exudes strength and presence on the road. With its bold front grille, chiseled lines, and signature LED headlights, the Silverado 1500 makes a striking impression. Al Piemonte Chevrolet offers a variety of striking color options, allowing you to customize your Silverado 1500 to match your style and preferences.
As a full-size truck, the Silverado 1500's design combines functionality and style. It provides a spacious truck bed and a roomy cabin, ensuring it's well-suited for both work and play. Whether you're hauling cargo, towing heavy loads, or simply enjoying the open road, the Silverado 1500 delivers.
Interior Comfort and Technology
Step inside the 2024 Silverado 1500, and you'll be greeted by a well-designed cabin focused on comfort and convenience. The interior offers generous legroom and headroom for both front and rear passengers, ensuring that everyone can enjoy the journey. Premium materials and an intuitive layout enhance the overall driving experience.
The Silverado 1500 is also equipped with advanced technology features to keep you connected and entertained on the road. The Chevrolet Infotainment system provides seamless smartphone integration, allowing you to access your favorite apps and media with ease. The available built-in 4G LTE Wi-Fi hotspot keeps you and your passengers connected, even in remote areas.
Performance and Efficiency
Under the hood, the 2024 Silverado 1500 offers a range of powertrains designed to deliver an exceptional driving experience. The standard 4.3-liter V6 engine provides ample power for everyday driving and light hauling. For those who need more muscle, the available 5.3-liter V8 engine offers robust performance, making it suitable for towing and carrying heavy loads.
For the utmost power and capability, the Silverado 1500 features an available 6.2-liter V8 engine that delivers an exhilarating performance. This powertrain is perfect for drivers who require maximum towing and hauling capacity, making it an ideal choice for demanding work environments or adventurous off-road expeditions.
The Silverado 1500 also offers various powertrains with advanced fuel-saving technologies to help you maximize efficiency, ensuring that your truck is both powerful and economical.
Safety Features
Safety is a paramount concern, and the 2024 Silverado 1500 is equipped with a comprehensive set of advanced safety features to protect you and your passengers. Features like forward collision alert, lane departure warning, and blind-spot monitoring provide an extra layer of security on the road.
The Silverado 1500's robust build and responsive handling further contribute to its safety profile, ensuring you can enjoy your journey with peace of mind.
Affordability and Value
One of the most attractive aspects of the 2024 Chevrolet Silverado 1500 is its affordability. At Al Piemonte Chevrolet, you'll find competitive pricing and financing options to make it easier for you to own the truck of your dreams. Considering the long-term value and reliability of the Silverado 1500, it becomes an even more appealing choice for budget-conscious buyers.
Chevrolet offers a comprehensive warranty package, ensuring you're covered in case of unexpected issues, providing an extra layer of security.
Al Piemonte Chevrolet: Your Trusted Dealer
When you're ready to explore the 2024 Chevrolet Silverado 1500, Al Piemonte Chevrolet is your trusted partner. Renowned for exceptional customer service and a commitment to customer satisfaction, they provide a hassle-free buying experience. Their friendly and knowledgeable staff can assist you in finding the perfect Silverado 1500 model to meet your needs and budget.
The 2024 Chevrolet Silverado 1500, available at Al Piemonte Chevrolet, offers an exceptional blend of power, versatility, technology, and safety. Its affordability and reliability make it a top choice in the full-size truck segment. Whether you're a professional driver, an off-road enthusiast, or someone who simply values a reliable and powerful vehicle, the Silverado 1500 is designed to meet your needs. Don't miss the opportunity to explore this remarkable truck and experience the outstanding service at Al Piemonte Chevrolet. Visit their showroom today and take the first step toward owning the 2024 Chevrolet Silverado 1500, a truck that's ready to tackle any challenge with style and confidence.