2024 Chevy Silverado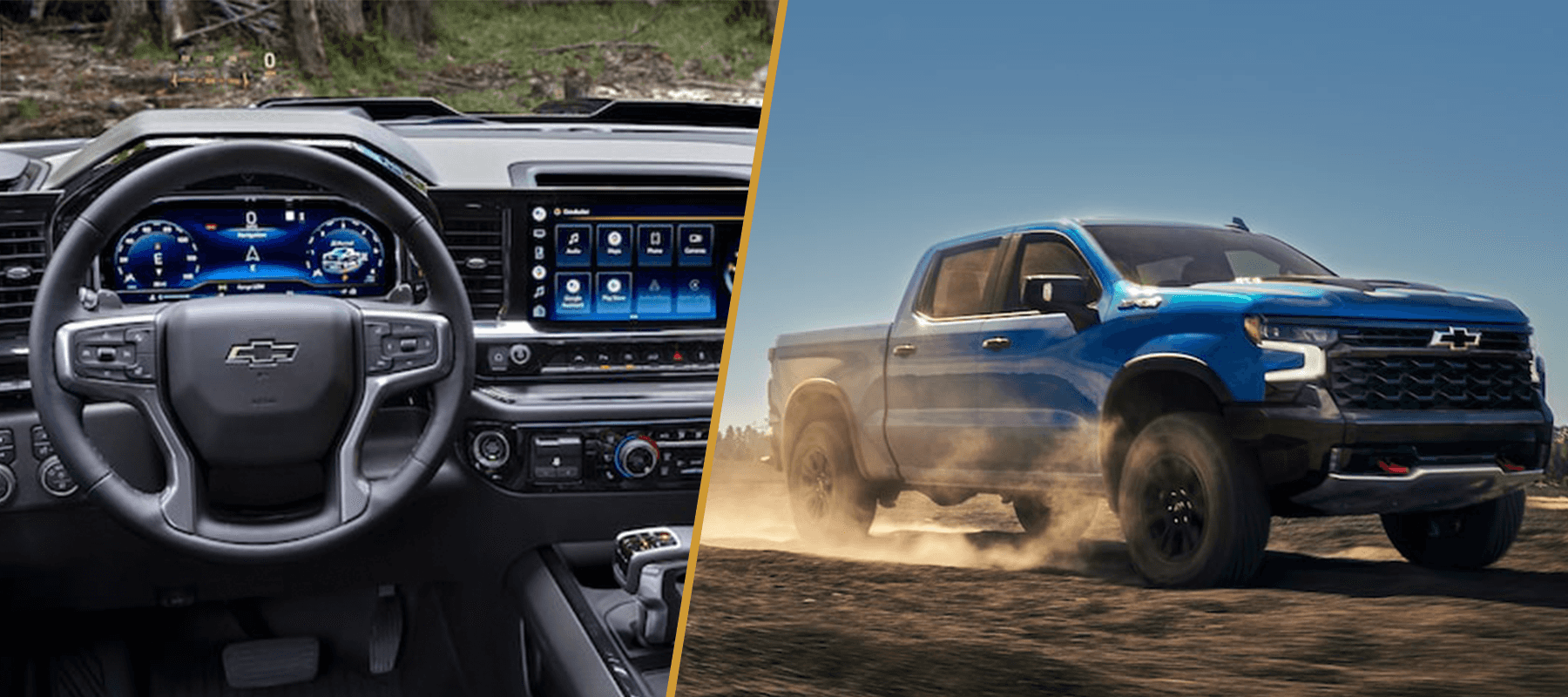 Are you in search of a truck that effortlessly combines rugged strength, cutting-edge technology, and uncompromising style? Look no further than the 2024 Chevrolet Silverado, now available at Al Piemonte Chevrolet. This iconic American truck is ready to redefine your expectations with its exceptional power, unrivaled performance, and an array of innovative features. Let's delve into why the 2024 Chevrolet Silverado, available at Al Piemonte Chevrolet, is the ultimate choice for truck enthusiasts, professionals, and adventure seekers alike.
Dominate the Road with Unparalleled Power and Performance
Multiple Engine Options: The 2024 Chevrolet Silverado offers an impressive range of potent engines tailored to meet your unique requirements. Choose from:
5.3L V8 Engine: Perfect for those seeking a harmonious blend of power and efficiency.
6.2L V8 Engine: Elevate your power and torque for those heavy-duty tasks that demand uncompromising strength.
Duramax® 3.0L Turbo-Diesel Engine: Opt for efficiency without sacrificing towing capacity – this engine offers the best of both worlds.
Z71 Off-Road Package: For those who thrive on off-road adventures, the Silverado offers the Z71 package, complete with all-terrain tires and an off-road suspension system for conquering rugged terrains.
Max Towing and Payload Capacity: The 2024 Silverado showcases an impressive towing capacity, allowing you to confidently transport anything from trailers and boats to heavy construction equipment. Equipped with an array of trailering features like Trailer Sway Control, Tow/Haul mode, and an available trailer camera, trailering becomes a safer and more convenient endeavor.
Advanced Trailering Technologies: The 2024 Silverado is equipped with advanced trailering technologies, including the state-of-the-art Advanced Trailering System. This system provides customized trailer profiles, pre-departure checklists, and a user-friendly mobile app for remote monitoring and control, ensuring that towing is not just hassle-free but also safe.
Immerse Yourself in Unrivaled Comfort and Convenience
Spacious Cabin: Slip into the 2024 Chevrolet Silverado, and you'll immediately notice the spacious, well-appointed interior designed for your comfort and convenience. Whether you're taking a quick drive or embarking on a long journey, the Silverado's cabin guarantees that you and your passengers enjoy unparalleled comfort.
Cutting-Edge Technology: Stay connected and entertained with Chevrolet's cutting-edge infotainment system. The 2024 Silverado features a substantial touchscreen display that boasts Apple CarPlay and Android Auto compatibility, allowing you to seamlessly integrate your smartphone for navigation, music, and more. You can also elevate your audio experience with the available Bose premium sound system.
Driver Assistance Features: Safety is paramount in the Silverado. Advanced driver assistance features like Forward Collision Alert, Lane Keep Assist, and Adaptive Cruise Control help you stay secure on the road. The Silverado also offers an available 360-degree camera system to enhance your visibility and simplify parking.
Comfort and Convenience Options: From heated and ventilated seats to a spacious center console, the 2024 Silverado is packed with convenience features designed to make your life easier. The available Multi-Flex tailgate provides six unique configurations, simplifying access to your cargo and tailoring your truck to your specific needs.
Rugged Elegance with Distinctive Design
Distinctive Design: The 2024 Chevrolet Silverado boasts a commanding presence on the road with its bold, modern design. Its striking front grille, sculpted sides, and LED lighting combine to make this truck stand out. This is a truck that not only performs but also makes a statement on the road.
High Country Package: For those seeking the ultimate in luxury and style, the Silverado offers the High Country package. This package includes premium leather seating, authentic wood trim, and a unique grille design that sets your Silverado apart from the rest.
Customization: You have the option to choose from a variety of trims and packages, allowing you to personalize your Silverado to match your style. Whether you prefer a sleek and refined look or a more rugged appearance, the Silverado offers customization options to cater to your unique tastes.
Find Your 2024 Chevrolet Silverado at Al Piemonte Chevrolet
The 2024 Chevrolet Silverado is not just a truck; it's a symbol of strength, innovation, and American craftsmanship. With its unmatched power and performance, unbeatable comfort and style, the Silverado represents the epitome of trucking excellence.
If you're ready to experience the 2024 Chevrolet Silverado for yourself, visit Al Piemonte Chevrolet, your trusted Chevrolet dealership. Come in and take one for a test drive, and feel the power, enjoy the comfort, and relish the style of a truck that redefines the road. Join the Chevrolet family and experience the future of trucking with the 2024 Silverado.
Don't miss your chance to own a piece of American automotive history. Visit Al Piemonte Chevrolet and make 2024 the year you drive home in a Chevrolet Silverado that surpasses all your expectations.