New 2023 Chevrolet Blazer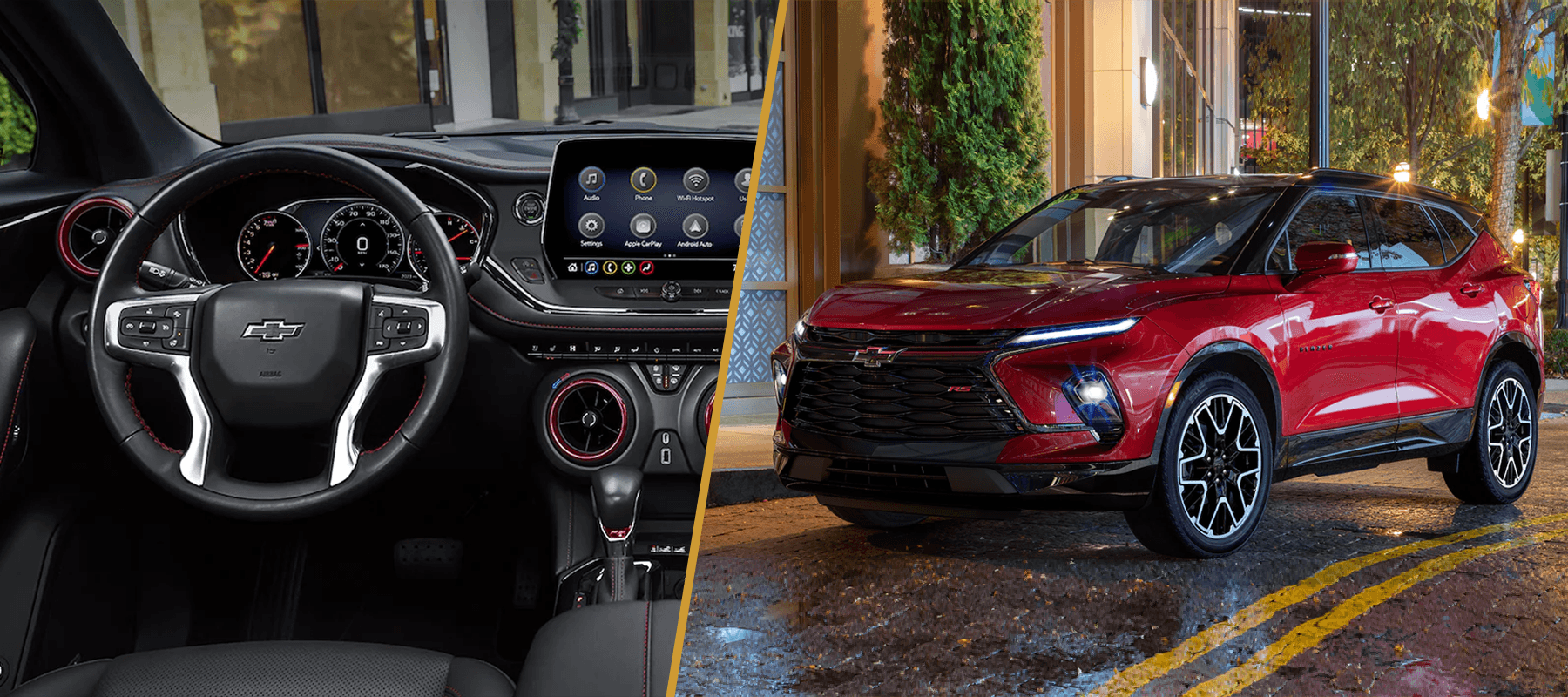 With an eye-catching athletic design, the 2023 Blazer is sure to stand out from the crowd. At Piemonte's Dundee Chevrolet, you'll find the 2023 Blazer for sale and friendly, knowledgeable sales associates ready to help you explore all its standard features and available options. The new 2023 Blazer is the SUV for those who crave a sportier look, with interiors featuring round, rotating HVAC vents clearly inspired by the famous Camaro air vents. If you'd like to take the 2023 Blazer out for a test drive and experience its driver-centric interiors for yourself, visit your 2023 Blazer dealer, Piemonte's Dundee Chevrolet, today!
What's new with the 2023 Chevrolet Blazer
First, the 2023 Blazer boasts a number of new exterior colors, including Fountain Blue, Copper Bronze Metallic, Radiant Red Tintcoat, and Sterling Gray Metallic – the RS model gets a little extra love with a new Nightshift Blue interior option. The overall exterior look has seen a refresh as well, boasting a new grille, LED headlamps, LED daytime running lights, taillights, and front fascia. A new 10-inch infotainment screen comes standard on all models, as well. The RS and Premier models come standard with wireless charging, and it's available as an add-on for the 2LT and 3LT models too. Finally, drivers can choose from three new wheel sizes: 18, 20, and 21 inches.
New 2023 Chevrolet Blazer features and specs

Safety conscious drivers will appreciate how extensive Chevrolet's Safety Assist standard suite of safety features is, featuring automatic emergency braking, lane keeping assist, automatic high beams, forward collision alert, following distance indicator, and front pedestrian braking. You can also add on adaptive cruise control for all 2023 Blazer trims. The RS and Premier models can also add on the Driver Confidence II package, which bundles a 360- degree camera system, enhanced automatic emergency braking, rear camera mirror, and adaptive cruise control. As mentioned, the 2023 Blazer includes a 10-inch infotainment screen standard across all trims.
The engine options for the 2023 Blazer have carried over from the last model year – a 2.0-liter turbocharged four- cylinder and 3.6-liter V-6. The more powerful of the two, the V-6, is standard on the RS and is an option for the 3LT and Premier trims. Notable, however, is the fact that a trailering package and V-6 engine is all it takes to kick the 2023 Blazer's towing capacity into overdrive, allowing it to tow up to 4,500 pounds compared to the four-cylinder's towing capacity of 3,250. The 2023 Blazer has a rating of 22 mph in the city and 29 mpg on the highway, although drivers can expect this number to drop if they opt for the all-wheel drive models. Past models of the Chevrolet Blazer have earned an overall NHTSA rating of five-stars, so we can expect that 2023 Blazer to rate similarly to its predecessors.
Visit your 2023 Chevrolet Blazer dealer, Piemonte's Dundee Chevrolet

Drivers looking to blend performance, comfort, and style in an eye-catching package will be drawn to the 2023 Blazer, whose sporty design makes it a real crowd pleaser. Even without opting in for more features, Chevrolet's Safety Assist suite of standard features means the new 2023 Blazer will be a favorite among safety conscious drivers of all stripes. Visit your 2023 Blazer dealer, Piemonte's Dundee Chevrolet, and come see how this athletic SUV handles for yourself by taking it out for a test drive.
WWe're located at 770 Dundee Ave in East Dundee, Illinois, and encourage you to stop by and check out the 2023 Blazer and all its features and unique, driver centric interior in person. You can also browse our inventory and review the add-ons and options available for the 2023 Blazer online 24/7 before coming down for a visit. If you have any questions about the 2023 Blazer price and leasing options we have available, you can reach our sales department at (866) 822-3841. Let our friendly sales associates show you what makes the 2023 Blazer pull ahead of the crowd at Piemonte's Dundee Chevrolet.