New 2023 Chevrolet Colorado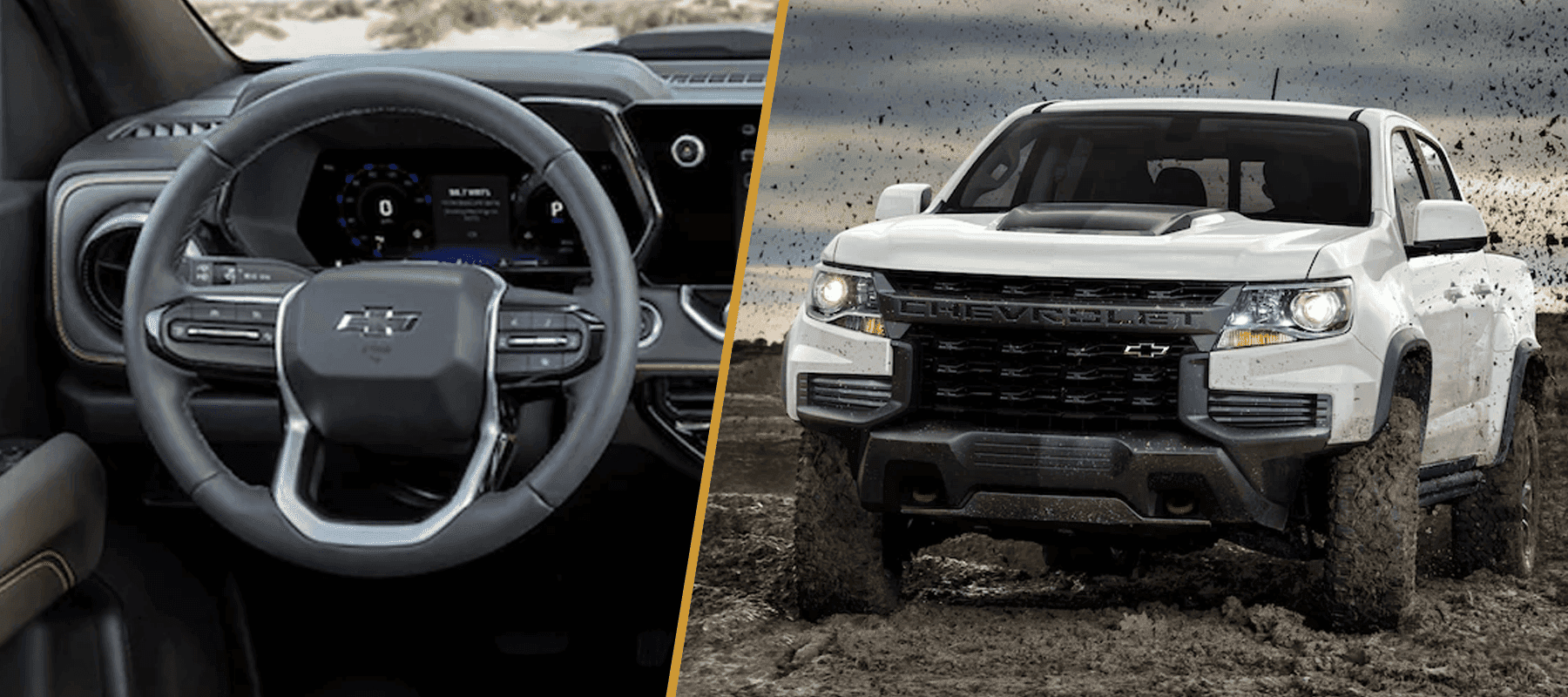 It's a great year to be a fan of Chevrolet's Colorado, with the 2023 Colorado having undergone a full redesign and sporting a new sleek, rugged look. This midsize pickup also boasts new upscale and higher-tech interiors, so it's just as fun on the inside as it is on the outside. But it's not just the style that's seen an upgrade! The new 2023 Colorado really gives you something to be excited about with a new engine and body configuration. If you'd like to get a hands-on look at the new 2023 Colorado, stop by your 2023 Colorado dealer, Piemonte's Dundee Chevrolet, and let our friendly sales associates help you see what the latest model year has on offer.
What's new with the 2023 Chevrolet Colorado
Drivers will notice the rugged, eye-catching exterior styling of the 2023 Silverado is a marked improvement over its more soft-edged ancestor, and the interior has evolved to a more premium design and now includes a nice suite of standard tech features. Also new is the mandatory single crew-cab, short-bed body configuration and the turbocharged four-cylinder engine, representing a departure from last year's long-bed and V-6 engine options.
New 2023 Chevrolet Colorado features and specs

In terms of safety, the 2023 Silverado still enjoys the support of Chevrolet's Safety Assist and its standard array of driver assistance features, including IntelliBeam® automatic high beams, following distance indicator, automatic emergency braking and pedestrian detection, and lane-keeping assist. Safety conscious drivers can add rear cross-traffic alert, blind spot monitoring, and adaptive cruise control to all trim levels as well for an additional fee. All trim levels of the new 2023 Silverado come standard with an 11.3 inch infotainment screen, Apple CarPlay and Android Auto, and various Google-powered features for navigation, media access, and more. Drivers will find a USB-A and -C port in the front row of each 2023 Silverado and can opt in for a wireless charging pad. Additional upgrades include an all-digital gauge display, 10-view camera system for a surround-view of the vehicle, and a hitch view to make trailer alignment easier than ever.
This midsize truck allows for 3,500 lbs of towing capacity on its 2.7-liter turbocharged inline-four engine, and this increases to 7,700 lbs capacity on either the 2.7-liter turbo plus or 2.7-liter turbo plus high-output engine options. The EPA has yet to release the fuel economy rating for the 2023 Silverado 2.7-liter engine, but drivers can expect a similar rating to last model year's 2.5-liter (19 mpg in the city and 25 mpg on the highway). The NHTSA hasn't tested the 2023 Silverado, although the last model year received an overall rating of four stars out of five. With the redesign, however, this rating may change, so be sure to keep an eye out!
Visit your 2023 Chevrolet Colorado dealer, Piemonte's Dundee Chevrolet

It's a great year to be a Colorado fan, with the rugged new look, upgraded interiors, and new engine. The more aggressive angle on the 2023 Colorado is sure to please those who were turned away by the softer edges of the last model year, while the lush interior gives drivers a little taste of luxury on this midsize pickup without sacrificing its usual towing capacity. The new 2023 Colorado is a truck that's sure to please even the finickiest of drivers.
We encourage you to come visit us at 770 Dundee Ave in East Dundee, Illinois, to take a 2023 Colorado out for a test-drive or even just to get a hands-on look at the latest model. You can check out our inventory online 24/7 as well as see what additional features, upgrades, and colors are available for the 2023 Colorado. Our sales department can be reached by phone at (866) 822-3841 and are always happy to discuss the pricing and leasing options available for the new 2023 Colorado. You'll find the 2023 Colorado for sale at your 2023 Colorado dealer, Piemonte's Dundee Chevrolet!