New 2023 Chevrolet Silverado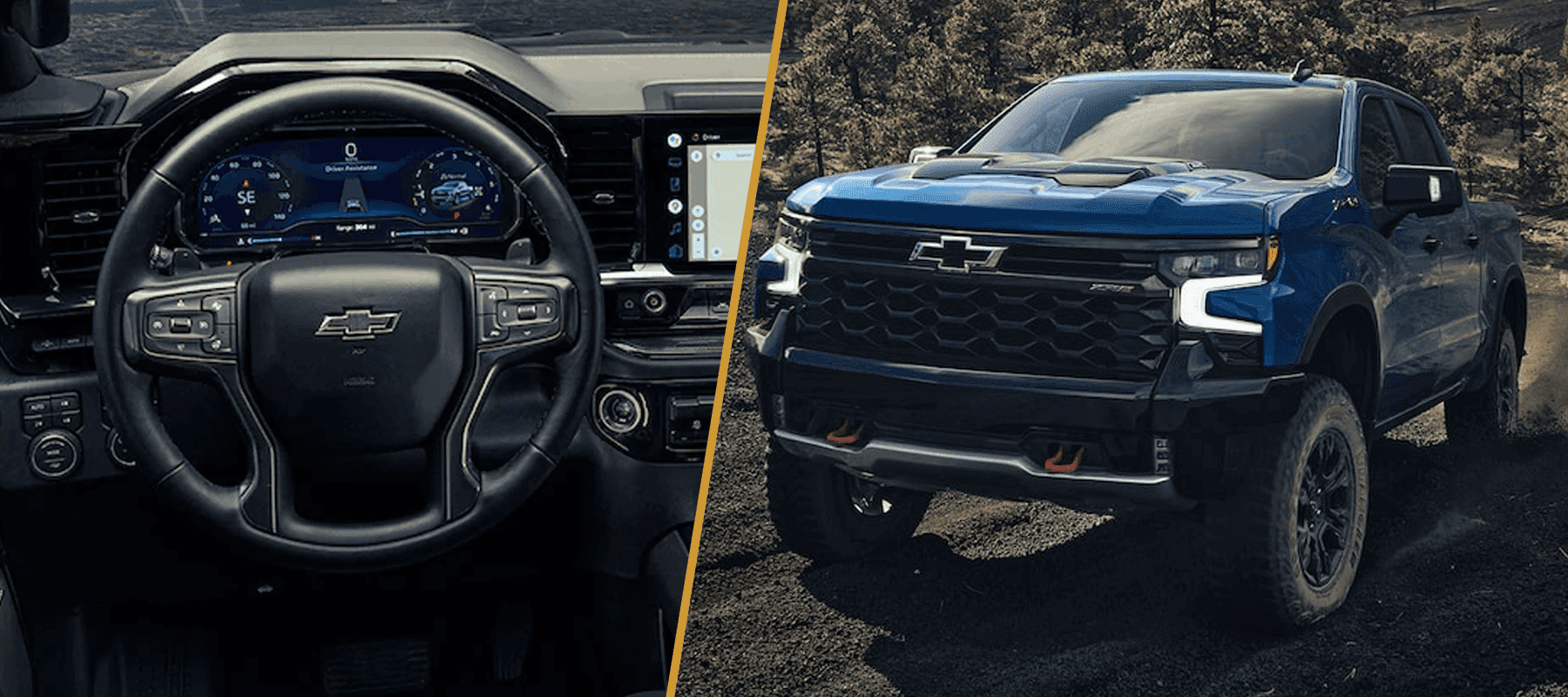 With last year's model receiving a mid-cycle update, complete with exterior and interior styling refreshes, there's not much changed for the new 2023 Silverado. Not that fans of the Silverado will mind at all, as the 2023 Silverado remains as much of a nimble handler as ever. A bit more power has been added to the diesel engine and the High Country trim offers drivers who prefer lush styling a new interior color option alongside three new exterior paint colors. You can find the 2023 Silverado for sale at your 2023 Silverado dealer, Piemonte's Dundee Chevrolet, where you're also encouraged to see all the latest model year has to offer with the help of our friendly sales associates.
What's new with the 2023 Chevrolet Silverado
The new 2023 Silverado sees the turbocharged 3.0-liter inline-six Duramax diesel engine gain 28 extra horsepower and 35 pound-feet of torque for an upgraded total of 305 hp and 495 lb-ft of torque. On the styling end of things, the 2023 Silverado offers drivers of the High Country trim the new Jet Black/Umber interior color option. All trim levels add three new colors to their palettes as well – Harvest Bronze Metallic, Sterling Gray Metallic, and Radiant Red Tintcoat – for those looking for a new look to this classic truck.
New 2023 Chevrolet Silverado features and specs

The 2023 Silverado comes standard with Chevrolet's Safety Assist suite of features, including automatic emergency braking, forward collision alert, lane-keeping assist, and IntelliBeam® automatic high beams. Blindspot monitoring and rear cross-traffic alert come standard across all trims, as well. Drivers looking for an upgrade might consider adding GM Super Cruise to the High Country trim, which Chevy states works even when hauling a trailer. Most trim levels come standard with an 8 inch infotainment screen, Apple CarPlay and Android Auto connectivity, a mobile Wi-Fi hotspot. Opting for the LT trim and higher levels sees the screen increase to a 13.4 inch horizontal touchscreen, loaded with additional functionalities such as wireless Apple CarPlay and Android Auto, Google voice assistant (with Google Maps and Play), and potential Amazon Alex integration. The LT and higher trims also boast a 12.3 inch digital instrument cluster alongside the upgraded screen.
While the 2023 Silverado is generous on front legroom, those looking to experience a little more luxury in a usually rough-and-tumble vehicle should opt for the LT trim and higher in order to enjoy a more luxurious cabin experience. The EPA has given the optional diesel engine an economical rating of 23 mpg in the city and 33 mpg on the highway, although you can expect this efficiency to drop when selecting an all-wheel drive. The turbo-four engine (with all-wheel drive) rated 20 mpg in the city and 22 mpg on the highway. The 2023 Silverado was given an overall five star rating by the NHTSA, making this a great choice for safety conscious drivers.
Visit your 2023 Chevrolet Silverado dealer, Piemonte's Dundee Chevrolet

While not much has changed for the 2023 model year, the new 2023 Silverado is still a great choice of truck for those looking for a satisfying driving experience on their haulers. The 2023 Silverado maxes out at a towing capacity of 13,300 lbs, making it a competitive choice for those needing a stronger truck. And, with the new interior and exterior options and upgraded interior on higher trims, there's no reason for drivers to settle for less comfortable interiors or so-so style.
You can find your 2023 Silverado dealer, Piemonte's Dundee Chevrolet, at 770 Dundee Ave in East Dundee, Illinois. Our inventory is available to browse 24/7 online if you'd like to see what we have available or if you'd just like to browse the many optional upgrades and features for the 2023 Silverado. Additionally, you can reach out to our sales department at (866) 822-3841 to discuss pricing options for the new 2023 Silverado. If you're looking for the 2023 Silverado, stop by Piemonte's Dundee Chevrolet and let us show you that car shopping can be fun again!