New 2023 Chevrolet Tahoe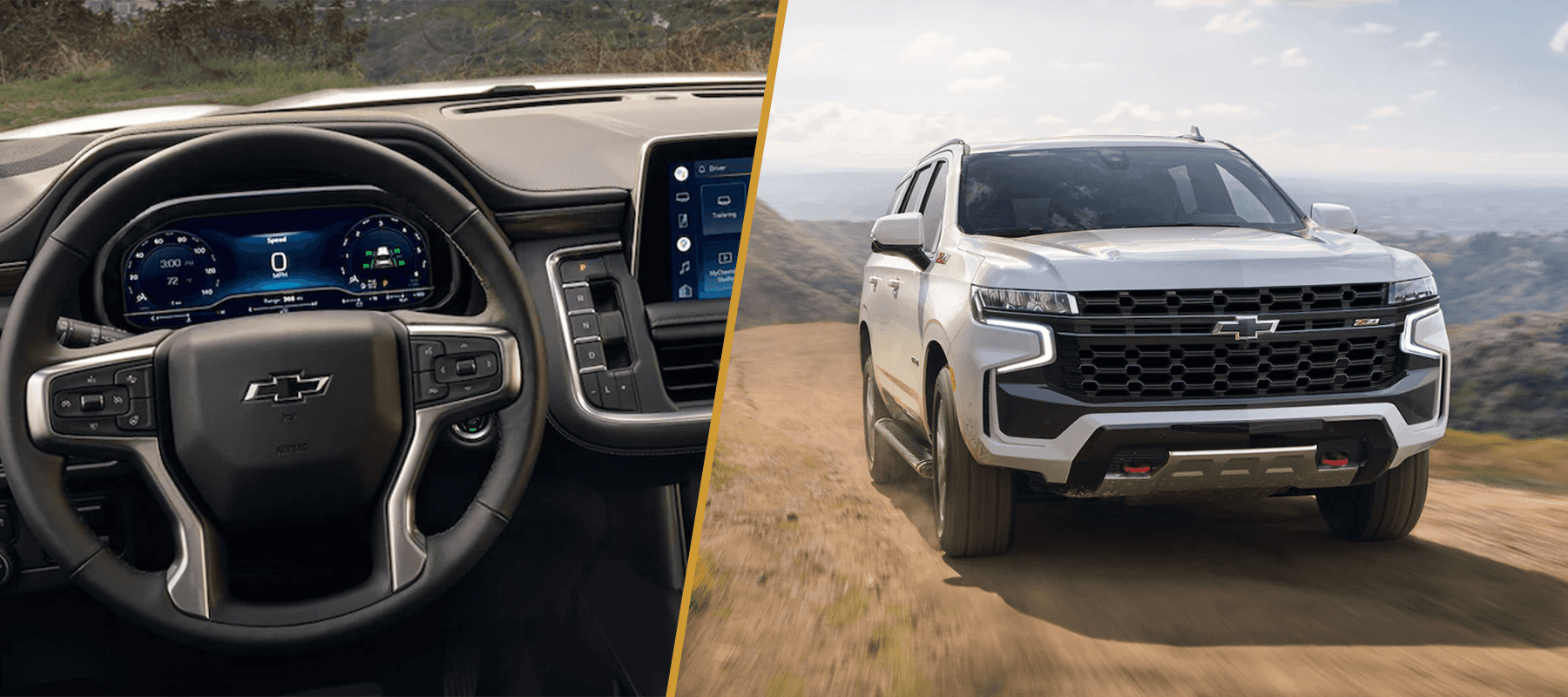 If you're looking for the latest and greatest in SUVs, don't miss out on the 2023 Chevrolet Tahoe for sale at Piemonte's Dundee Chevrolet. Our friendly and knowledgeable sales associates will help you discover the new and exciting features that make the 2023 Tahoe stand out as well as go over the different trim options we have available. The 2023 Tahoe released with six different trims – LS, LT, RST, Z71, Premier, and High Country – and its features will vary based on which trim you select, but each and every 2023 Tahoe for sale is enjoyably spacious and boasts a surprisingly agile drive for a vehicle of its size. Your 2023 Tahoe dealer, Piemonte's Dundee Chevrolet, encourages you to visit us today for a test drive!
What's new with the 2023 Chevrolet Tahoe
Alongside an exterior option update, the 2023 Tahoe features the new Super Cruise technology option, which allows for a semi-autonomous, hands-free drive. While this isn't a true self-driving capability, the Super Cruise handles acceleration, steering, and braking much more smoothly than other similar technologies, making it an excellent mimic of a human driver. Drivers should be aware that they will need to remain ready to assume control of the vehicle at all times, because the Super Cruise comes with audio and visual alerts to warn the driver when it encounters a situation it isn't prepared to handle.
New 2023 Chevrolet Tahoe features and specs

While the 2023 Tahoe Super Cruise option is undoubtedly an impressive feature, Chevy's Safety Assist suite of features and options can't be skipped over! The standard array of Safety Assist features include automatic emergency braking, lane keeping assist, parking sensors, and automatic high beams. There are more options available as well, including adaptive cruise control, blind-spot monitors, and a surround-view camera. The 2023 Tahoe technology features vary based on what trim you choose, but both trims offered at Piemonte's Dundee Chevrolet – the Z71 and High Country – come with a 10.2-inch infotainment touchscreen, 12-inch digital instrument display, and wireless Android Auto and Apple CarPlay compatibility. The Z71 will satisfy those looking for a more rugged SUV, with Chevrolet's adaptive suspension and magnetorheological dampers; those who enjoy a more luxurious experience will want to check out the High Country, which also boasts a head-up display and surround-view camera.
Fans of the old Tahoe will appreciate that its three powertrain options have carried over for the 2023 Tahoe, which all feature a fantastic 10-speed automatic transmission with either rear- or all-wheel drive. The EPA has given the 2023 Tahoe a rating of up to 16 mpg in the city and 20 mpg on the highway, although the all-wheel drive model will have a predictably lower rating. NHTSA rates the 2023 Tahoe a solid four stars, making the 2023 Tahoe a smart choice for even the most safety conscious of drivers.
Visit your 2023 Chevrolet Tahoe dealer, Piemonte's Dundee Chevrolet

With a distinct and electrifying look, the new 2023 Tahoe is sure to please anyone looking for a new and exciting SUV. The optional addition of the Super Cruise technology to the 2023 Tahoe makes this a great year for anyone looking for an SUV with cutting-edge technology features. Between the rugged Z71 and luxurious High Country trims, there's a 2023 Tahoe for both ends of the SUV enthusiast spectrum. But if you're not yet sold on which trim you want, we invite you to come visit us at Piemonte's Dundee Chevrolet to take the 2023 Tahoe out for a test drive and see for yourself which trim you love more.
We're located at 770 Dundee Ave in East Dundee, Illinois, if you're looking to see what the 2023 Tahoe for sale can offer you in person; otherwise, you can check out our inventory online 24/7 to read over the specifics of our 2023 Tahoe vehicles. You can also contact our sales department by calling us at (866) 822-3841 to discuss 2023 Tahoe pricing options. The team at Piemonte's Dundee Chevrolet is eager to help show you what makes the 2023 Tahoe for sale so exciting – we look forward to showing you how fun car shopping can really be!