New 2023 Chevrolet Traverse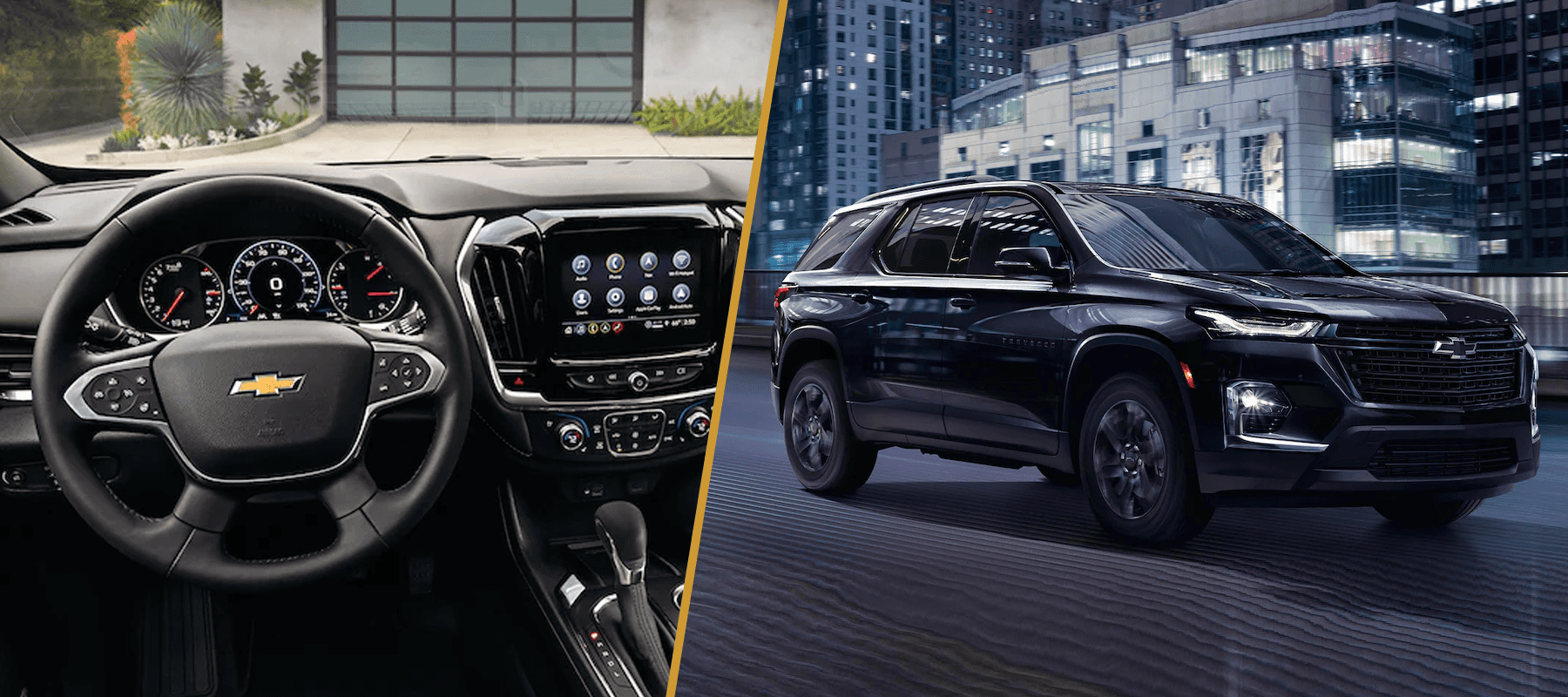 One of Chevrolet's more popular crossover models, the 2023 Traverse is a refinement of last year's model. There are few adjustments that have been made, so fans of the 2022 Traverse will appreciate an updated version of an already good thing; the 2023 Traverse boasts the same smooth ride, off-road capability, and spacious interior as its predecessors. If you're looking for a reliable, roomy vehicle that can handle off-roading, the 2023 Traverse is the perfect SUV for you. Visit your 2023 Traverse dealer, Piemonte's Dundee Chevrolet, and see how our 2023 Traverse for sale handles for yourself.
What's new with the 2023 Chevrolet Traverse
As mentioned, not much has changed for the new 2023 Traverse. Drivers have the choice of some exterior colors, including Sterling Gray Metallic and Radiant Red Tintcoat. The 2023 Traverse comes in six trims: LS, LT cloth, LT leather, RS, Premier, and High Country. For all trims LT (cloth and leather both) and above, the 2023 Traverse features a redesigned steering wheel. These new additions to an already well-loved line of cars are welcome changes for those looking to upgrade their experience with the Traverse family without disrupting what they loved about it in the first place.
New 2023 Chevrolet Traverse features and specs

Chevrolet's Safety Assist standard suite of features for the 2023 Traverse includes automatic emergency braking, front pedestrian braking, forward collision alert, following distance indicator, IntelliBeam, and lane keeping assist with lane departure warning. The LS trim can add on blind-spot monitors, while all other trims enjoy blind-spot monitors as a standard feature. The higher trims can also add on the optional adaptive cruise control, surround- view camera, and an automatic emergency braking system that's more advanced than the basic version. The LS and LT Cloth trims feature a standard 7-inch infotainment touchscreen, and RS and above enjoy a larger 8-inch screen. You'll also find USB ports in all three rows of the 2023 Traverse, wireless compatibility with Android Auto and Apple CarPlay, and a Wi-Fi hotspot. Drivers of Premier and High Country trims will also enjoy an 8-inch digital gauge cluster.
That not much has changed shouldn't come as too much of a surprise, given that the Traverse received a facelift with the release of its second generation back in 2018. Since this second-generation release, the NHTSA hasn't revisited the Traverse, although it scored generally favorably in crash testing with the IIHS. The EPA rating of the 2023 Traverse is 18 mpg in the city and 27 mpg on the highway, with a drop to 17 mpg in the city and 25 mpg on the highway for all-wheel drive models. The enormous cabin space remains one of the key selling points of the 2023 Traverse, making it a great contender for families or adventurers who have to frequently haul their gear to and from their home.
Visit your 2023 Chevrolet Traverse dealer, Piemonte's Dundee Chevrolet

The new 2023 Traverse is a great choice for drivers looking for something familiar with a little new zest to it – why mess with success? And, with new eye-catching color options, the 2023 Traverse is sure to please those who want a new look for a reliable, smooth driving experience. With Chevrolet's Safety Assist containing a suite of strong standard features, the 2023 Traverse is a great fit for families looking to keep safe on the road. If you'd like to get a feel for the new 2023 Traverse for yourself, visit your 2023 Traverse dealer, Piemonte's Dundee Chevrolet, for a test drive.
You can find us at 770 Dundee Ave in East Dundee, Illinois, and invite you to check out the 2023 Traverse to get a feel for this spacious, reliable SUV. Our inventory is viewable 24/7 online if you'd like to review what features and options are available for the 2023 Traverse as well. For any questions regarding 2023 Traverse price and leasing options, please contact our sales department at (866) 822-3841. Piemonte's Dundee Chevrolet wants to show you that car shopping can be fun again! Come visit us and experience the 2023 Traverse for yourself.